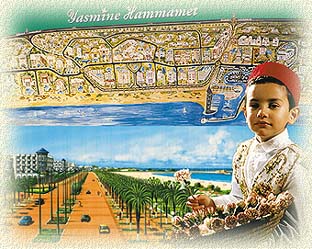 YASMINE HAMMAMET is a new tourism development, just six minutes from Hammamet and one hour from Tunis-Carthage and Monastir airports.
HAMMAMET - TUNISIA

The resort of Yasmine Hammamet is named after the Jasmine flower, symbol of life and happiness.
The Jasmine bouquet is a symbol of welcome and of warm hospitality.
In your dreams you've been to Hammamet, a charming, welcoming and relaxing resort.
In Hammamet, your dreams come true.
It's